Plex – another great way to watch porn on your HD TV
May 14, 2016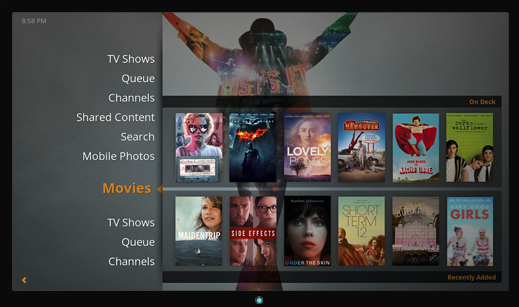 Plex is another great option for watching porn on your HD TV. I use it to stream content (not just porn) from a Mac in my media room to any TV, phone or computer in my home. It's free and a great option for enjoying your porn.  On my TV in my bedroom, I have Plex running on my Roku. It's simple and easy to use.
Plex also has an option so you can play back your media from outside your local network. When setup you can watch porn quotes outside your house.
Plex also has the option to set up privacy controls. It's especially helpful if you have chitlins in the house. That way your kid's can't even see your porn. Or you can just setup a password on certain folders. Then just put the porn in a folder named Grandma's Home Movies and add a password of "cloundofshame33".
I don't know many great resources for diverse porn torrents. I have had better luck finding good quality HD mainstream movies and less luck finding amateur or specific porn categories. There are hundreds of porn specific torrent sites. I just don't know them. Let me know if you have any favorites.
Setting up Plex
Here are the steps on how I set up Plex for optimal porn quoting:
Search for media (I use Pirate Bay) On Pirate Bay make sure you are searching for HD content.
Download media (porn, spongebob, whatever).
Setup a Plex server on an old computer.
Add and organize media.
Setup privacy controls if you have children in the house.
Setup the Plex app (to view content) on your computer, phone, or Roku.
PROS: works great for HD porn, you can lock channels for privacy
CONS: you need to download the porn in advance. If you are feeling the mood for something new you would have to pause, search, find and download the file before you could watch it. That process depends largely on how fast your internet connection is.
---